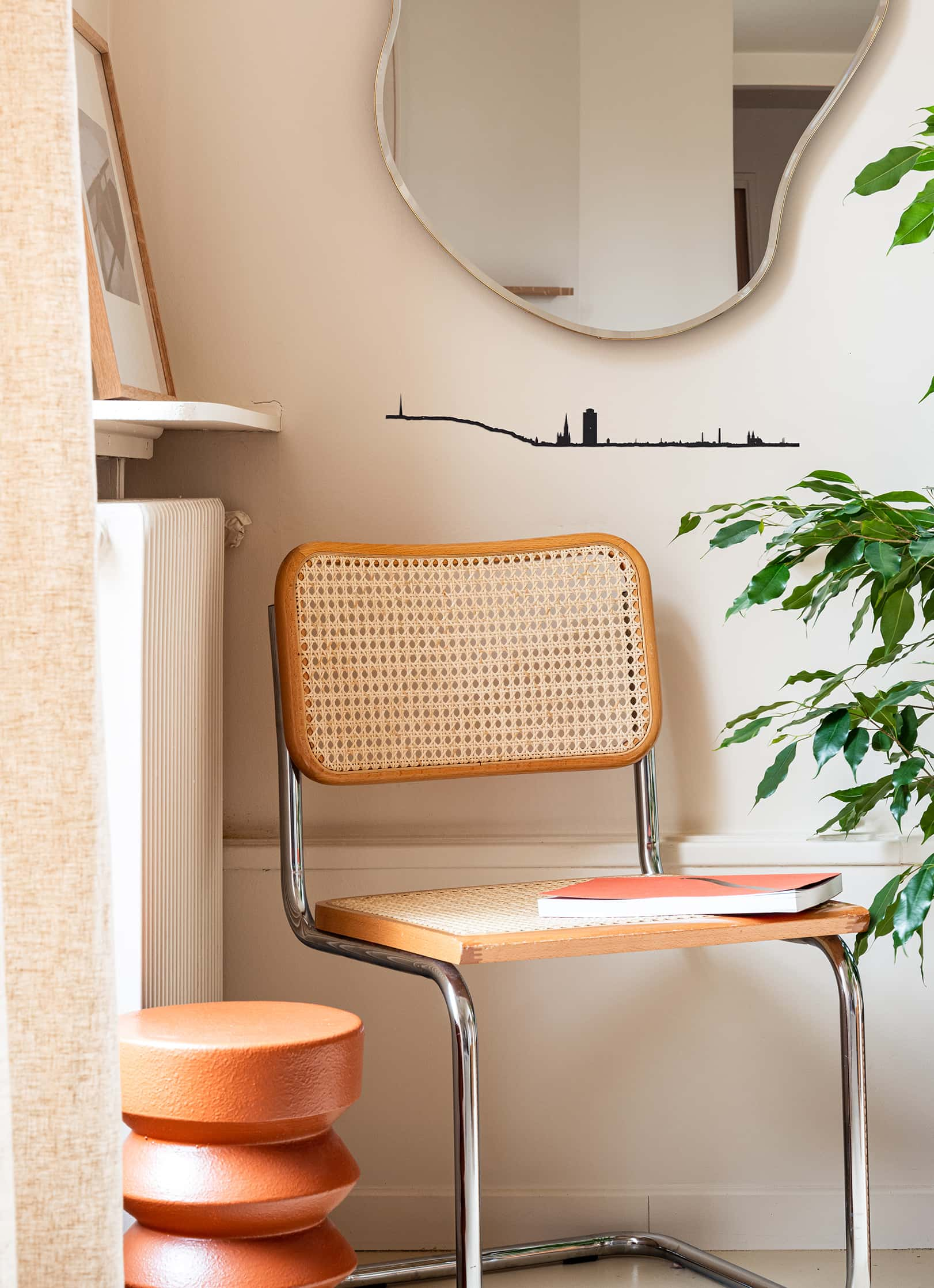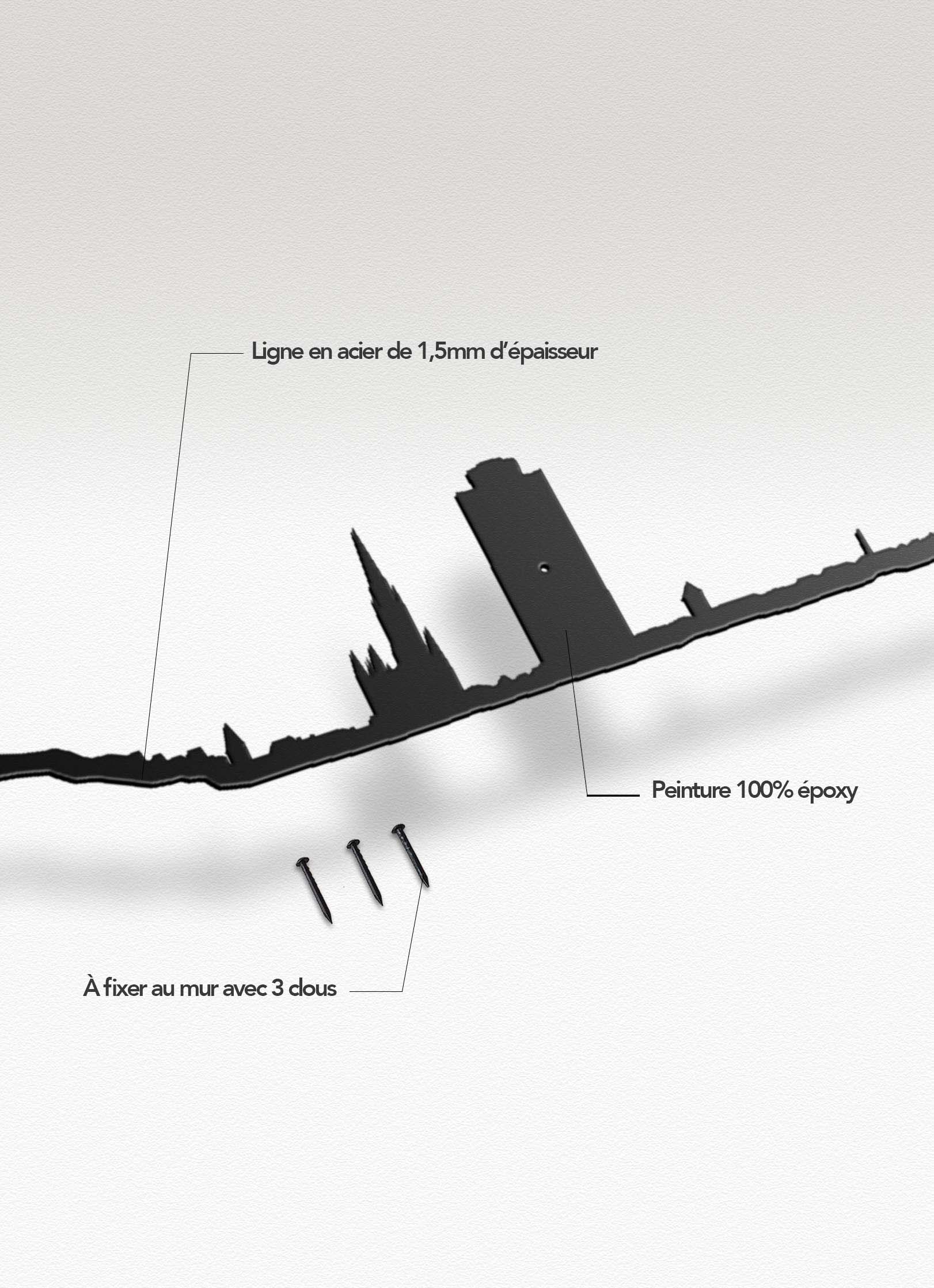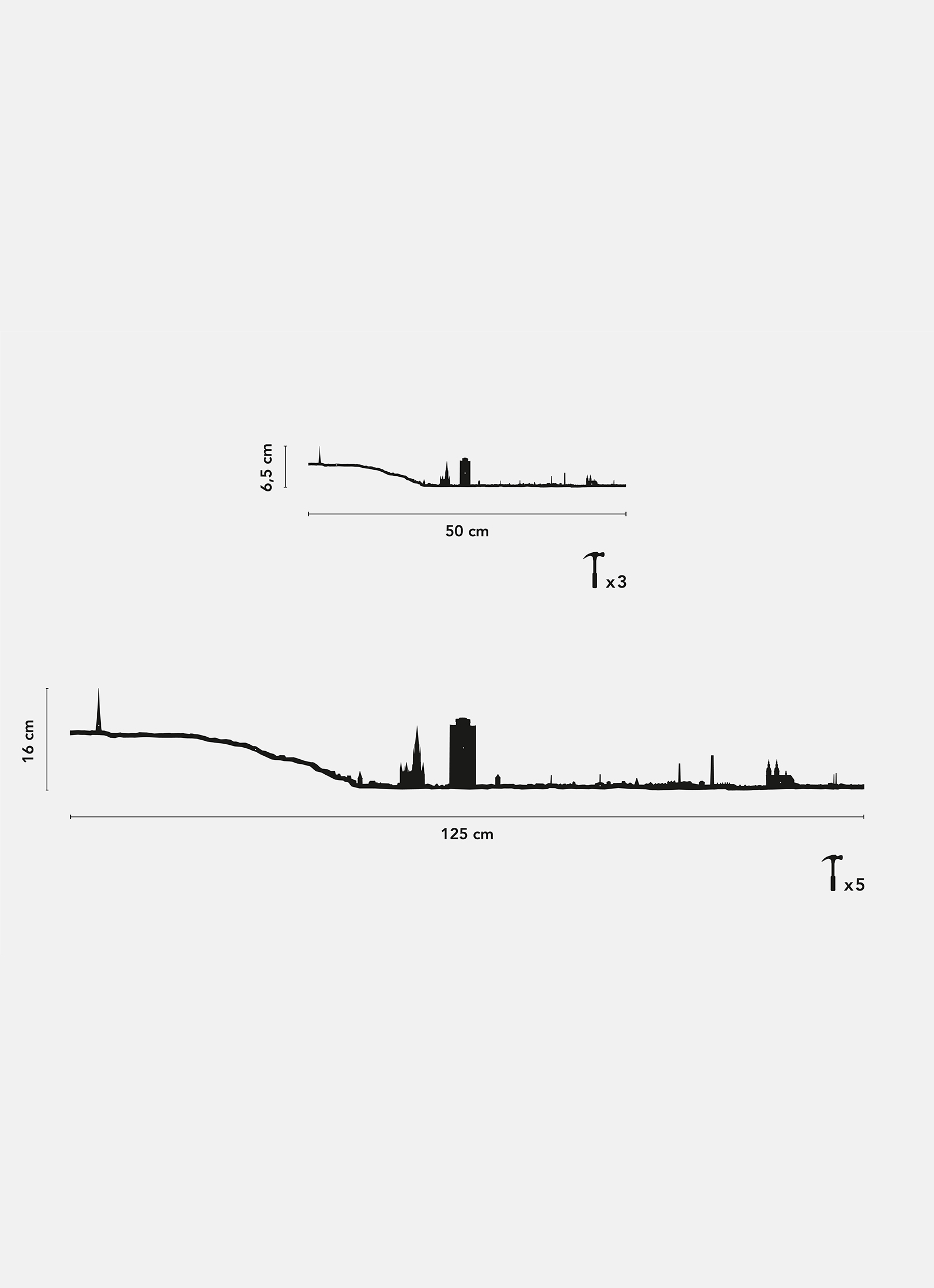 Mulhouse
Skyline of Mulhouse : steel wall decoration.
We have depicted the skyline of Mulhouse from the Nouveau Bassin.
You can see the DMC factory, the Tour de l'Europe, the Rebberg and the Temple Saint-Étienne.
All our products are made in France
Find out more about Mulhouse
Any order placed before 11:30am (UTC+1) is shipped the same day (except weekends). 
Delivery in France in 2-5 working days.
Shipping costs offered in relay points in France.
Indications
Characteristics:
1.5 mm thick steel line

To be wall fixed with 3 nails

Inside and outside
Pose:
Super easy

Start by nailing the middle of the line, then simply adjust the level
Contraindication:
Not suitable for brick or concrete walls
About Mulhouse
Nicknamed the Cité du Bollwerk after Bollwerk tower, a pre-industrialisation relic, Mulhouse is a French commune situated in the European Collectivity of Alsace in the Grand Est region. 42% of inhabitants are under 30. Propelled into the industrial adventure in 1746, it became one of Europe's first industrial clusters. The European capital of technical museums, Mulhouse is home to the world's largest automotive museum and Europe's largest electric energy museum and railway museum. The city was the home town of Captain Alfred Dreyfus and Alfred Werner, winner of the 1913 Nobel prize in chemistry. Saint-Etienne church situated in the heart of the city is the tallest protestant church in France. Two rivers cross through Mulhouse, the Doller and the Ill. In 58 BC, the Battle of Vosges took place in the west of Mulhouse between the Roman army led by Julius Caesar and a Germanic tribe led by Arioviste. Place de la Réunion, the central square in Mulhouse, overlooks rue Mercière, rue de la Lanterne and rue Henriette as well as passage de l'hôtel de ville.
Manufacturing
Drawing
Through a single stroke, The Line represents panoramas of cities, legendary mountain tops, or even mythical music tracks visually represented by their soundwaves.
Cutting
Lines are laser cut from metal sheets, with an extreme accuracy. This step is carried out in France by several partners, including a cooperative company.
Gilding
Lines are gilded with 24-carat gold via an electrolysis process ensuring agglomeration of gold on the line.
Boxes and silkscreen
Despite significant production volumes, The Line keeps an artisanal manufacturing approach for its packaging, and uses a silkscreen process to guarantee an original and qualitative result.
Packing
Final packing of products is then carried out within ESATs (work-based learning centers dedicated to people with disabilities).